Tracking Dashboard gives you a high-level view of all legislation you or your organization are tracking. Dashboard can be printed or e-mailed, making your work easily shareable with others.

When you print or e-mail your Dashboard, a new window, called Dashboard Report Format will appear.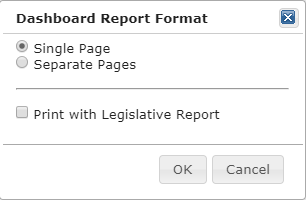 The Single Page provides all 4 pods in 1 page. Users may prefer this as a handout but the Customer Issues pod will be truncated if the client has more than 10 tags.
With the Separate Page option each pod is on a different page so all headings/tags will be displayed. Additionally, a legend is provided for the map so the recipient can see to total number of bills for each state.